Transporter Energy - Why make the switch to Lithium Batteries?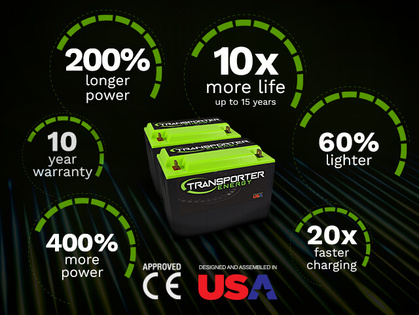 When you're out in your caravan or motorhome, you don't want to have a constant worry about powering all of your appliances. That's where Transporter energy's lithium ion battery shows its true colours.
Modern caravan and motorhomes rely heavily on electrical appliances, whether this be a fridge, USB sockets, TV's or even hobs. To match the amount of charge cycles from a Lead / AGM battery to Lithium batteries it takes a lot of lead acid batteries, 1 lithium-iron battery = 5000 cycles which costs £1,199 compared to the 20 lead acid batteries it takes to = 5000 cycles which costs £3,000. So a lithium-ion battery saves you a total of £1,801.
Below are some of the benefits you will receive by switching from your Lead / AGM batteries to a Lithium ion battery:
Lithium ION Batteries
-Increase payload, Lithium batteries weigh only 15kg
- Over 90% Charge if Lithium is left for 4 months
- Lithium can be fitted anywhere in any orientation to save space and for ease of fitment
- With lithium there is no risk of overcharging issues and it will not emit toxic explosive gasses, swell or explode.
- Lithium can run totally flat and recharge. The Battery Management System, in Lithium will kick in and protect itself before damaging occurs.
- Lithium maintains a stable voltage right down to almost zero, keeping your appliances running.
- ​Lithium has a straight power curve until flat.
- Lithium has much faster charging time, 5-10 times faster.
Lead / AGM batteries
- Average AGM / Lead acid weighs between 24-31kg
- Lead / AGM will go flat if left for long periods of time
- Lead / AGM must be fitted upright with access to a vent
- Lead / AGM are dangerous if overcharged
- Lead / AGM will be destroyed if allowed to go flat. Below 10.5V they are unrecoverable
- Lead / AGM is taken below 12 volts your appliances will start turning off, including TV's fridges, heating, control panels etc.
- Lead / AGM have an ever decreasing power curve
- Lead / AGM are relatively slow to charge
Safety
Another perk of having a lithium iron battery on board is reducing or even removing any gas within your caravan or motorhomes. Not only is gas a big safety concern, with the risk of fires, explosions and a carbon monoxide threat, you no longer have to worry about having safety checks and certification which is more convenient and cheaper.
Weight
No one wants to have to carry round heavy batteries, If you take 3 x lead acid batteries which produce the same power as the lithium ion battery, they weigh between 78-93kg, the lithium equivalent only weighs 13kg, so thats not only a huge weight saving, it's also a huge saving on space too, allowing you to reduce clutter in the caravan and allow you to increase your storage too.
ECO friendly
It's no secret to anyone that batteries are better for the environment, an easy way for travelers to reduce their carbon footprint and be as green as possible. Transporter Energies Lithium Ion batteries are ideal for a wide range of leisure applications and when used in conjunction with solar panels they can provide a virtually limitless source of green energy, saving you money and meaning you can use your appliances for as long as you need.
Charge & Power
When you're out and about in your travels, you don't want to have to worry about the charge in your batteries, you want to enjoy the scenery and relax.
By switching to Lithium batteries you will receive 200% longer charge than Lead / AGM batteries and have 10x more charge, with up to 15 years life on the battery..
Recharging your batteries: Lithium will charge 5-10X faster than Lead / AGM batteries which saves you a lot of time and worry about long charging periods. Another problem with Lead / AGM batteries is they can be dangerous if overcharged, be destroyed if they go flat and below 10.5V they are unrecoverable, whereas Lithium batteries can run totally flat and recharge as the battery management system in lithium will kick in and protect itself before damage occurs.
Another advantage to lithium is they will hold a stable charge right down to almost zero, meaning you don't have to worry about your appliances turning off below 12 volts like Lead / AGM batteries.
Warranty
When making a big investment into a product, you want to make sure you get your value for money...that's why Transporter Energies batteries are durable and practical to withstand whatever life throws at them.
Every battery comes with a 10 year warranty, so if anything does go wrong, they'll replace
the defective battery and give you a refund towards a new one, allowing you to be powered whatever you're doing.
Summary
Overall here at Caravans For Sale we highly recommend making the switch to Transporter energies Lithium battery. With all of the benefits above, the 0% finance, 10 years warranty and 15 years life expectancy, this battery is a great investment saving you a lot of money and time over the years whilst increasing your safety within your caravan or motorhome, helping keep you stress-free and happy, ready to take on any adventure.