How do caravan toilets work?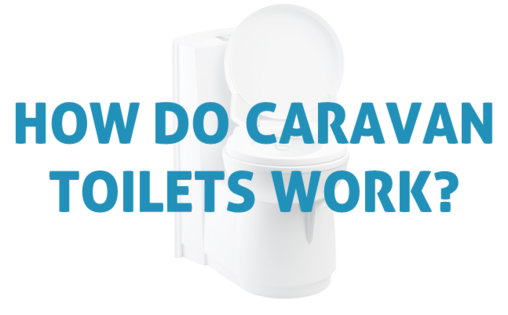 This may not be one of the most glamorous segments of the caravanning lifestyle, but it is impossible to avoid. I mean everyone uses the toilet, I use the toilet, you use the toilet, and even the most glamorous celebrities use the toilet. But how does a caravan toilet work? Well, I am here to tell you.

Most caravans and motorhomes come with in-built toilets in their washrooms. These are mostly chemical toilets which have a cassette waste holding tank which you have to empty when it gets full.
The most simple type of chemical toilet is casually known as a 'bucket and chuck it' toilet. Not the most attractive nickname is it?
Chemical toilets in caravans do not only store the waste but they also deodorize it, which is pretty important in my opinion. If you are living in your caravan you don't want to be living amongst your own smells so the chemicals play a vital role in making your holiday better.

Now, this is the dreaded bit. Your chemical toilet is full and it needs to be emptied. Well, it is quite simple actually. First of all, you must remember that you're only allowed to empty your caravan's toilet into a specifically designated place. It would be unhygienic to just tip your waste where you please and the chemicals should not be allowed to go into the sewage system.
In a caravan park, there should be a disposal unit that should be marked as a Chemical Disposal Point or CDP, however, at some sites it may be labelled as an Elsan Point. If you can't find the right place then you may have to wait until you get home and flush it down your own toilet. Do not be naughty and tip it where you please.

The disposal point may look something like this:

So, caravan toilets need looking after. They need to be nurtured and cleaned and loved otherwise they may not stay in working order. Bearing that in mind, here are a few hints that may help you and your toilet out:
Never use household cleaners or detergents as they may contain bleach which could cause your toilet substantial damage.




Make sure you drain the toilet flush tank during the winter to avoid damage that may be caused due to frost.




Be gentle when emptying it and don't shake it around too much. This may damage the float arm which tells you when your toilet is full.




Pour the chemicals into the tank using the correct spout and NOT the blade hole; the chemicals may damage the seal if you do.




Anti freeze may need to be added to the fresh toilet water if you are caravanning in the winter.
So, now that you know how they work, how to empty them and you are now armed with some handy hints, you can go on your caravan holiday and enjoy yourself a little bit more. No need to worry about the toilet.