Hymer Eriba Triton Touring 420 | Look around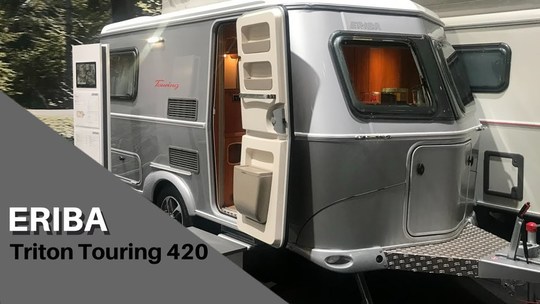 Hymer Eriba Triton Touring 420
Here We Tow take a look at the Hymer Eriba Triton Touring 420 at the 2019 Caravan Salon Dusseldorf
Transcript:
Here we have the Hymer Eriba Touring 420. This is a small and compact Caravan, as you can see it has a pop top and it has the lovely silver front and sides that the Eriba, very similar to the Airstream in appearance. This one is on an Alko chassis as we can see with a nice front locker. As we move further in, obviously on a single axle axle, the touring decals on the side, good sized front door with bin, we've got the vents there for the fridge and freezer, an awning light and there's some storage there on the off side.
Arround the back we have a large one-piece window, silver grab handles and the nice retro effect lighting all the way down. The steadies are just normal widened down ones with small feet, they are easily accessed as well which is quite good, the wind out points are quite prominent, we can see one there just at the front and also on the other side so there's not going to be any issue getting down to wind the legs down. At the front there's two windows and the pop top to give that extra Headroom.
So let's venture inside the touring 420, this is a lovely compact Caravan, we do have here as well at the entrance the step as well that you can pull out. We head in and immediately to the right there's the kitchen area taking up the full width of the caravan, we have a sink and some gas burner hops under there, plenty of worktop space and lots of lighting, we've got a wood effect floor, plenty of storage, we've got some storage above now we've got some storage below.
Immediately in front of us through this door is where we're going to find a lovely compact wash room, so first of all we get the mirror, there's a little wash basin and then over to the side there's the thetford toilet and a toilet roll holder. There is a shower in here as well so you can shower, the floor has got the plug there and I believe the handle is going to pull out of there to allow you to shower. So a lovely little compact washroom.
This one as you can see the roof has already popped up so when you're living in it this is this off head room you will get which is certainly sufficient for a man of at least six foot two or a lady. Over on the side we've got a little work top counter, underneath there's a nice compact Dometic fridge and freezer to put all your stuff in, it is wood effect to complement the rest of the interior. Sweeping round we can see the three windows, obviously it's a little dark in here because we are indoors but it will give you an idea of how much light you're going to get in, lovely long seating area, obviously this will convert to a bed and it will make, I would say that's going to be at least six foot two or three in length the bed. Wardrobe space, there's a little bit wardrobe space just over here and you're also going to find your fuse box in there as well and underneath we're going to find a gas fire for when it's a little bit cooler on the night. This model has got air blown heating so it will no doubt run off electric and gas for an evening time when it's a little bit chilly in the winter months.
So there we have it that is the inside of the Touring 420, we'll just look at the facts and figures for this one, as we can see there the Triton Touring 420, we've got a price there of 25,000 euros so it's quite a lot of money there for a small 2 birth caravan, we've got a facts and figures it's going to weigh between 1000 and 1300 kilos so generous payload of 125 - 425 so there we have it.