The Caravan Renovation | Final Reveal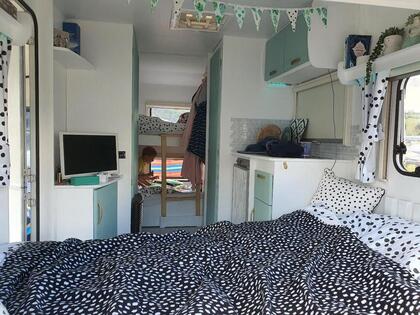 So, to recap. We bought a lovely little, lightweight caravan. It was fifteen years old. I painted the inside and made new seat cushions and completely transformed the bathroom. I also added a few finishing touches like adding DC Fix vinyl to the table and work surface and tic tac tiles around the kitchen area.
The caravan originally had net curtains and proper curtains but they added to the feeling of gloom and clutter. The black out blinds are pretty effective but I decided to add some curtains as well, as much for decorative effect as practicality. I lined them with thermal blackout lining and sewed magnets into the hems. A line of self adhesive metal tape under the windows provides a surface for them to cling to and helps to stop the light creeping under the bottom of the blinds in the mornings.
I also made a full length, fully lined curtain to section off the bunk beds at night and I painted the floor grey.
Here are the before and after pictures.

You can see the curtains are finished and it gives you a good view of the tic tac tiles in the kitchen and the vinyl on the fridge.

The tic tac tiles were a work in progress but definitely do make it easier to wipe down after cooking and make the kitchen feel like more of a defined area.
The door mat was fron TK Maxx and I cut it to size with a stanley knife.
I used DC Fix vinyl on the table, fridge and small work surface area. I have worked with vinyl quite a bit so didn't find it too tricky. I am really pleased with how it brought the whole thing together.
I absolutely LOVED doing this project and I love my finished caravan. I will write more later about our first trips away but for now here is a photo of the caravan mid holiday (not nicely tidied for an instagram snap) and of me, on my birthday, looking very happy in my lovely caravan. Thanks for reading!