Hymer Tramp S on a Mercedes Chassis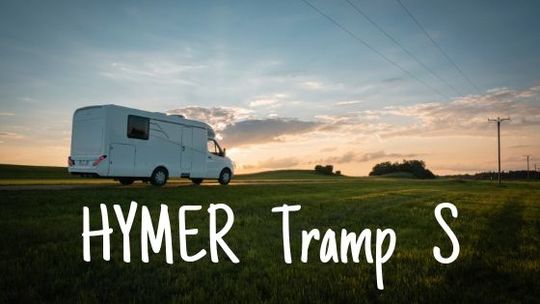 Hymer Tramp S on a Mercedes chassis
Semi-integrated motorhome on a whole new level: the Hymer Tramp S on a Mercedes chassis.
Tramp S 695
Hymer GmbH & Co. KG is continuing its collaboration with Mercedes-Benz in the semi-integrated motorhome sector as well.
The Hymer Tramp S provides the perfect introduction to the world of Motorhoming on a whole new level: the bodywork of the Mercedes-Benz Sprinter with front-wheel drive and original frame has a marked impact on payload reserves and the headroom within the vehicle, while numerous driver assistance systems are also included on board.
The interior boasts a cosy design with modern designer touches that are typical of Hymer, a smart lighting concept, as well as a particularly generous feeling of space.
Tramp S 695 Internal Front
With the Tramp S, Hymer is redefining the quality standards for those starting out in the world of motorhoming.
Measuring 7.39 metres in length and 2.29 metres in width, the motorhome on the Mercedes-Benz Sprinter chassis boasts a sporty look.
Tramp S 695 Layout
Numerous assistance systems, such as Crosswind Assist, Active Brake Assist or DISTRONIC Active Distance Assist, ensure a high level of safety and a smooth drive.
New designer touches and an especially cosy interior
When it comes to the interior, the Tramp S boasts a clear-cut design: a cosy atmosphere is created by the modern combination of gloss finish surfaces combined with matt surfaces that are pleasing to the touch, as well as the accentuated wooden design of the furniture.
Tramp S 695 Dining
Thanks to the lowered chassis frame, the upper floor is level throughout the vehicle, which results in a generous overall headroom of 2.04 metres.
Even the shower boasts an impressive height of 1.94 metres.
Tramp S 695 Shower
The bathroom with its ergonomic interior design is characterised by large mirrors and the user-friendly lighting.
Tramp S 695 Bathroom.
The height-adjustable queen-size bed measuring 1.95 by 1.50 metres is the highlight of the 695 layout.
Tramp S 695 Bedroom
As an option, the vehicle can be complemented with a power-operated fold-down bed with a headroom of 1.90 metres.
Tramp S 695 Drop Down Bed
Furnishings and fittings create a cosy atmosphere on board
The couch/couch layout at the front of the living area creates a generous feeling of space thanks to the clever floor plan.
Tramp S 695 Lounge
The two couch units can also be converted into full-size seats facing the direction of travel, so there are no obstacles to four people going on holiday together – and all of this under 3.5 tons.
Handy double USB ports have been installed in the seating area, which has a particularly spacious de-sign, and by the rear bed. For the first time, the vehicle features a hot air diesel heater with a boiler as standard, which not only has a positive impact on the weight and storage space as gas bottles are no longer required, but also ensures greater self-sufficiency on trips as it is powered by diesel.
The two compact 3-litre gas bottles are still present for the hob and for cooking. The Tramp S also has a floor-to-ceiling, silent 152-litre compressor refrigerator as standard with an optional oven above.
Tramp S 695 Kitchen
The kitchen has a revised, bright design with a tapered front panel, which gives the vehicle a more spacious appearance and enables the kitchen to be used in a more ergonomic way. The large panoramic roof vent in the living area lets in plenty of daylight to create a pleasant, natural ambience inside the vehicle.
Tramp S 695 Travel Seat
The interior lighting is based on LED technology and features a striking lighting concept with several lighting levels.
Semi-integrated vehicle built on the new Mercedes-Benz Sprinter chassis with front-wheel drive as well as comprehensive assistance and multimedia systems
Level upper floor with a headroom of 2.04metres throughout the entire living area
Modern, bright interior design with an open couch/couch layout; power-operated fold-down bed optional
Carefully selected furniture components with a wooden design for a cosy atmosphere on board
Four full-size seats facing the direction of travel (two of which are easy-to-use folding seats)
Folding table for improved access from the cab to the living area
Ergonomically improved interior design of the bathroom and shower with large mirrors as well as user-friendly lighting
Increased self-sufficiency due to diesel-powered, hot-air heating system with boiler and 152 l compressor refrigerator as standard
Large garage
Reduced weight thanks to front-wheel drive
Mercedes-Benz 314 CDI, 105 KW / 143 hp
Keyless start with automatic ignition key detection
Exclusive Hymer multifunctional rear lights in LED hybrid technology
GRP lightweight floor with XPS insulation
Large garage doors on right in direction of travel
Mosquito net blind on entrance door
Hymer lighting concept with several lighting levels as well as LED ambient light- ing
Al/Al side wall construction (PUAL design)
Premium all-metal hinges with soft-close mechanisms
Kitchen with premium fittings
Sleeping area can be partitioned off from the living area using the sliding door for greater privacy
Ergonomically improved bed access
Premium mattress with ventilation underneath for a high degree of sleeping comfort
High-performance LED headlights
Head end of the bed with either a wall unit for extra storage space or a shelf for more headroom
Hymer Smart-Battery-System (lithium-ion battery)
Assistance systems, such as Crosswind Assist, adaptive cruise control (DISTRONIC), High Beam Assist, active lane departure warning system or Traffic Sign Recognition
2400 W roof air conditioning
6 kW gas-powered, hot-air heating system with 1,800 W electric bar heater and hot water boiler
Absorption refrigerator
Hymer bike carrier and other accessories by Hymer Original Parts
The Hymer Tramp S will be available from dealers from October 2019 onwards.