Insuring your caravan ready for spring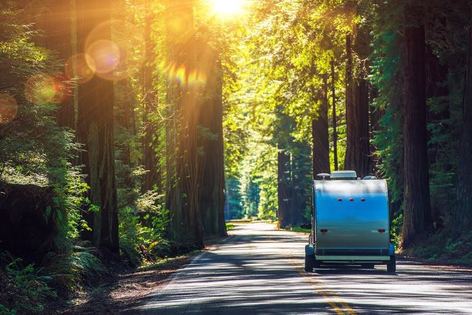 The flowers are blooming, the days are getting longer, and, sometimes, the sun is shining. What better time to get in to your car and hook on the caravan or start up your motorhome and take to the road to find a perfect spot to relax. However, before you do that you should make sure you have the appropriate insurance in place. The cover you need for a motorhome is very different to that needed for a caravan.
Whilst caravan insurance is not a requirement when your caravan is being towed by an insured vehicle, it is advisable. Yes, your caravan will be legal, but there are many occasions that could leave you in real trouble. For example, if your caravan is stolen then you will have no recourse on your car or home insurance. Likewise, if it is vandalised there will be no protection. In England especially, it is essential that you protect your vehicle against the elements including lightening and flooding. Fire and explosion are other serious considerations for any vehicle with a gas canister on board. Not insuring such an expensive item is a very big risk to take.
The premium you pay will depend on the make of caravan, the storage, and the age of your caravan. Purchasing motorhome insurance is completely different as it is a legal requirement; the premium you pay for your motorhome insurance can vary enormously based on many factors. There are some things you can change to keep the premium down, while others are as they are. The first thing that will affect the premium is the same as car insurance; if the insured drivers have a history of claims or convictions these will inevitably cause a hefty rise.
One thing you can do to reduce the premium is to ensure the motorhome has good security. Devices such as trackers and alarms can give discounts as long as they are the required Thatcham category or make. This of course has the added benefit of protecting your vehicle from theft.
Another factor to impact your premium is the mileage that you will do. If you only do 4,000 miles per year but ask for unlimited mileage cover you could be costing yourself money unnecessarily. However, do not underestimate intentionally; if you have to claim, an insurer could refuse the claim if you are not telling the truth. The storage of your motorhome will heavily impact not only your premium but also which insurers are willing to offer cover. Vehicles that are parked on the road over a certain value do not fit the underwriting criteria for some insurers and limited options usually mean higher premiums, plus the cover may not be as comprehensive.
Once you have decided what you need for your motorhome, you then need to think about the type of insurance that you will need; there are many companies that offer many different types of insurance, and you need to choose the policy that suits you best. You need to think about what you are going to be doing in your motorhome throughout the year, because this will determine how many miles you will need, and of course if the insurer will cover you in the countries that you want to travel to.
Most companies will offer green cards; these cards are like an extension to your policy that you have to pay extra for so that you are insured in other countries. Another benefit that you may want to consider is how much you will be covered for personal effects and belongings; this covers things like pots and pans, bed linen and clothing. Other items like jewellery, tv's or other high value items will be covered by your home insurance. You need to make sure that this is discussed with the insurer so that you are clear that everything is covered.
If you are having trouble trying to find the right insurer a good way to get ideas is by joining forums or Facebook groups and either looking at conversations that have already been discussed by other motorhome owners, or by posting yourself, perhaps with a photo and a brief description of what vehicle you have, and other members will be more than willing to help you out and send you recommendations about what insurer they are with. If you have a self-build or a conversion, forums and Facebook groups are the best place to ask questions because it may be harder to find an insurer that will cover your type of vehicle. People who have had the same problem as you will be able to advise you about insurers that they have come across.
There are many forums out there but a good one that we have found is motorhomefun.co.uk/forum. There are always ongoing conversations and it is easy to use. Another way to determine what insurer you go with would be by looking at reviews. You can find reviews on Google, Facebook or Review Centre. These reviews are key to read as they are written by customers or ex customers of that company and they will give their honest opinion and experiences with that company.
The weather in spring can differ from bright sunshine to torrential rain, so during this time it is key to keep yourself protected, and what better way to do this than sitting under your awning. Awnings are great as you can use them when you are sitting outside protecting yourself from the sun, or if you are outside if you need to let your pet out and keep an eye on them, you can stand under the awning to protect you from the rain. There are two different types of awnings: fixed and non-fixed awnings. Depending on what awning you have, it may already be covered by your insurance, or you may need to add extra to get it insured. At a time like this it is vital that you insure your awning as you will find a lot of use for it.
Check out this article for tips on how to get cheap caravan insurance, or here for some tips on cleaning your caravan!